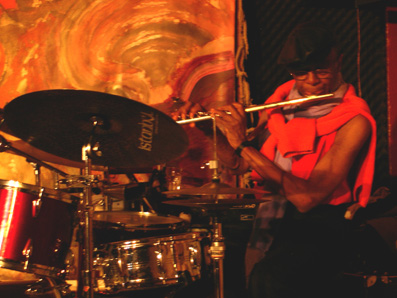 Photo: Gila
All compositions, lyrics, text: Aldridge Hansberry (SACEM) unless indicated.




Drums, percussion, flutes: Aldridge Hansberry unless mentioned.
The night of the 23 of December, we played in the galerie La Maison des Frigos, in the pluridisciplinaire complex, 'Les Frigos', where artists workshops, studios and professional workspaces have been in existence for over 20 years. The quartet was again: Michèle Véronique - violin; Thomas Kpade - cello; Jobic Le Masson - piano.
La nuit du 22 décembre, on a joué dans la galerie 'La maison des Frigos' complexe pluridisciplinare qui abrite des studios et ateliers des artistes, et des bureaux et des endroits de travail depuis plus qu

e

20 ans.